Nora snapped this picture of me one morning, as I studied my scriptures, and favorite scriptures I've written down on notecards. I try and get my scripture study and exercise all done before they're up in the mornings, and even though we normally get up at 530 and can get a lot of that done before they're up, they get up around 615-630 and some mornings I'm not finished or I'm late getting up because we've stayed up late working on house projects (which has happened more recently).
Last Sunday, the night of Elisabeth's last practice for General Conference, and the night the general primary presidency attended and she was able to meet them and give them all hugs, was also the night of the lunar eclipse. We saw it starting on our drive home and once we got home we all went outside and watched for a bit.
This is a picture Elisabeth took of her dinner which she felt was pretty balanced with a big green salad, and whole grain pasta, pizza, bread. And she probably had some grapes for dessert :).
For family night activity this past week we helped Scott hang the door to the basement bedroom where we just inserted a hallway, and then we folded laundry and played some music on the digital piano while we worked.
Wednesday late afternoon, Andrew and Noah came over, my dear friend Elisa's boys, because Elisa went to her grandmothers funeral in OR and brought her other two kids, and her husband was out of town until midnight that night. So we had the boys sleep over which the children loved because they normally don't get to have sleepovers. They played football for a bit(Noah is timing them in this picture),
made some music,
Charles and Andrew are playing a duet together at their recital next week, and they thought they were pretty hilarious when they practiced together that night and switched sides on the bench so that they were playing in the wrong octave.
we had dinner, scriptures and then they read together before bed.
And here's a picture of our updated laundry room. Doesn't it look great!?
Here is a 'before' picture: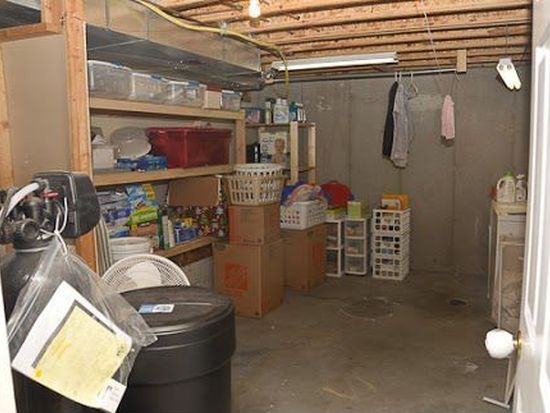 We're still not all the way done, there's a small section that doesn't have the paneled ceiling up just yet because we need to drop the ceiling so that it goes around the venting and pipes, but it's getting there!